NN: Blaire
on
November 9, 2015
at
12:01 am
Hey readers! I have basically not been on my computer at all this weekend thanks to moving. The good news is that as I am typing this, we are getting ready to spending out first night (it's still Sunday as I type this) in the new place. We are definitely sleeping on a mattress on the floor because we put together the kiddo's bed and decided that there was no way in hell we were going to disassemble and reassemble a second one tonight, but otherwise most of the important stuff is over here and set up, my work station included (I am currently stealing my own wifi through the wall and will continue to do so until they get someone out here to change it over). Here's a terrible picture: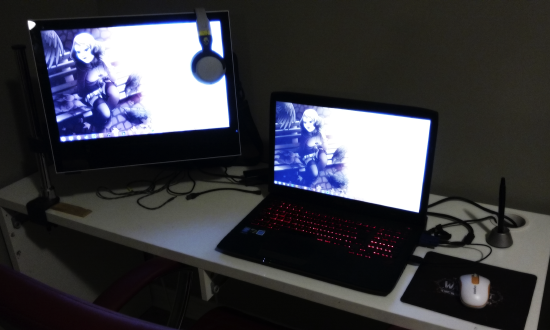 Anyhow, when I get up later today, I'm going to try and split my time between keeping the kiddo occupied, prepping a new batch of pages and moving the contents of the other side of the house over to this one. The plan is to have essentially everything over here by Wednesday with the exception of a few really heavy things that my parents are coming over to help us move.
That means that the good news is that patrons are going to start seeing the inks for new pages by the end of the week at the latest. You'll note that the website still hasn't been updated, but that's mainly because moving cut into it and also I hit a small design snag that I don't have the headspace to fix right now. Website redesign is still happening, but until I can look at it from a different angle, I'm going to focus on new pages because that's actually getting something done.
Anyhow, enjoy this week's Naughty November pics; tomorrow's feature is Henri!