Ch12 12
on
August 2, 2013
at
12:01 am
So if anyone was asleep for these past few pages, hope this woke you up!
Before I get into anything, I want to address the confusion a few readers have been having about who is who; you will note that on every page underneath the title, it looks like this: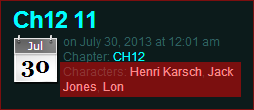 Each of those character names is a link. If you click it, it will open up an archive page that will list, complete with thumbnails, every page that specific character has ever been tagged on. So, if you were to click on 'Noh' today, you would see the last page she showed up on as the page directly after this one. Hope that helps!
Anyhow, kickstarter rewards are starting to roll out. Everyone who backed on any tier now has the fancy wallpaper of the cover available, and anyone above that has access to the ebook! The fancy digital package will be available for download as of next Friday after I can get a friend to test run the Mac version of the shimeji. For anyone who wants an ebook but missed the kickstarter, I'll be putting them up in the store some time next week.