Whew! Busy weekend, busy weekend.
First off, the rest f the chapter is well on its way to being done. Cory's got a little bit of re-wording to do on some of them, which means I haven't added them to the Buffer folder yet, and on top of that I've taken on some last minute work for the Valor Anthology and am doing a cover and inside illustration for one of the prose pieces included in it. Got them both, along with adorable author's pics for Cory and myself completely inked yesterday, and I'll be colouring them up this afternoon since they need to be handed in by Thursday.
Anyhow, now that we're back on track and moving toward the end of the year, I'm trying to get the Patreon back up to full speed. As part of that, we'll be releasing Patron exclusive wallpapers featuring art that was done for the books of some of the different alien races in the book, and we're posting them alongside design notes provided by Cory. The first featurette  is about the Makkuroa and can be found here. Here's a preview!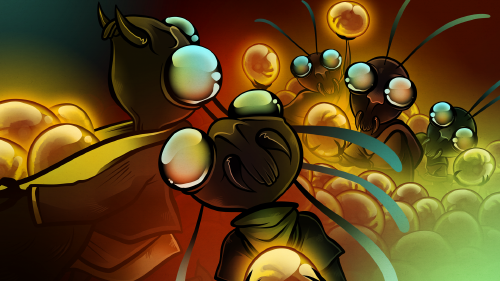 We'll be adding a new one every Sunday for the next few weeks! Next up are the Fiah.
Anyhow, we're going to be posting the next poll up for January's wallpapers either Friday or next Tuesday so I can get everything done well before our relatives drag us all over the place for the winter holidays. We've got some fun stuff planned for it, that's for sure. Until then, I'm back to work! See you all on Friday.