Ch16 13
on
March 17, 2015
at
12:01 am
Hello awesome people! If you're wondering why there was no author's comment last Friday, it was because I was out for a girls' night out (translation: Beer, cards against humanity with a bunch of my awful, awesome lady friends) and didn't get home until well after midnight, the comic already having auto-posted itself. Because of that, there is lots to get through today, so i'm not gonna waste any time: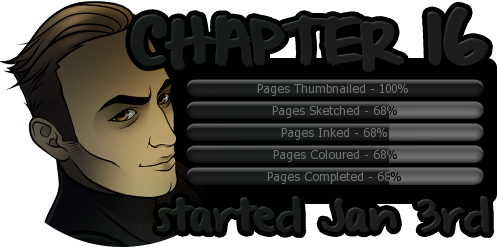 Oh hay, what's this? Progress meter is looking good, and not just because of Victor's smarmy face. We finished up another batch of 5 pages, and if you're a $5 patron, you can actually go read them all right now. And speaking of patrons, I have some interesting news. Some of you will know I have a secret, not really safe for work blog where I draw requested art of characters from The End. Well…I don't have it anymore. It was really hard to justify spending full time on full colour illustrations that I wasn't being paid for instead of, well, paid work, which is why it almost never got updated. The good news is that I opened a separate Patreon for them, which you can check out here if you're into that sort of thing. It has no posts yet, which i will remedy tomorrow. For this upcoming month, I am currently working on a fancy wallpaper/illustration featuring Noh.
And last but not least, here's the poll for the April Wallpapers! The theme is spring, and all of the options are characters from the previous poll who did not win. I meant to do something that had an open call for this month, but unfortunately I kind of forgot and we're running out of time to vote. The poll will close Saturday night!
[yop_poll id="8″]