Ch18 09
on
January 5, 2016
at
12:01 am
Good morning readers! Lots going on this week. I just finished up the last 3 pages in this batch, so the progress bar is looking like this now, provided I don't go crazy and ad an extra scene or something (I may actually add an extra scene if Cory thinks we should, so…):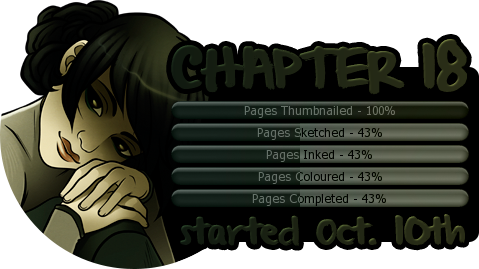 And on that note, $5+ Patrons can read all of those new pages early as of yesterday. There is also a SFW pic of Noh up for $1+ patrons, as well as a NSFW version up for $10 patrons.
Last but not least, our store was still being buggy and awful about digital downloads, which was unfortunate because that was all it contained. We decided that giving BoxTruck our money, only for it to completely fail to deliver anything, was probably not a great investment anymore, and made the switch over to gumroad. Currently we have the first book as an ebook, as well as a short bonus booklet featuring the declassified versions of the character file folders (they are filled with fun easter eggs, too!). We also compiled wallpaper and icon packs for all of the 2014 and 2015 wallpapers respectively. They each contain over 30 wallpapers, and cost the price of a minimum year's pledge to Patreon ($12).
Anyhow, the plan for the rest of the week is to get the wallpapers done, as well as do a sketch sheet while I figure out who I want the next NSFW pinup to feature. I may also start and finish that pinup, because I'd like all of them done before Saturday when I plan to sit down and dig in to the next batch of pages.
See you all Friday!