Teaser: Overseer Qa
on
June 10, 2016
at
12:01 am
Hey people, how about a progress meter? Edit: I realize after reading this author's note over that the progress meter says 'pages sletched' instead of sketched, but I'm beat and not going to bother fixing it, because it will soon be replaced with a higher percent. Whoops.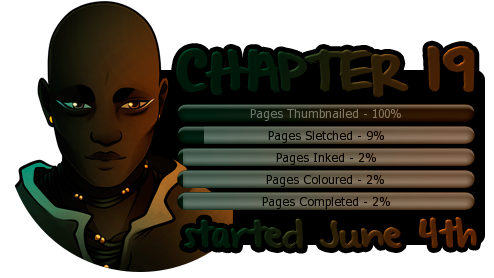 So good news–Cory's parents are going to be back from Florida some time mid next week, which means that things will soon be sort of back to normal. I've had a really productive week, and the plan for today is to continue to rough sketch out as many pages as I possible can, and keep doing that every day until about Wednesday next week. At that point, regardless of how many pages are sketched, I'll be switching over to ink phase. From there out I'll be inking pretty much all day for the rest of the week until Saturday, when I switch over to flatting and colouring whichever pages I have inked by that point.
It's going to be a lot of work, but it's work that needs to get done. I'm feeling a lot more energized now that the thumbnails for the new chapter are done and make sense, which is much better than how I was feeling earlier in the week.
Anyhow, I'm off to be unconscious! I leave you with another one of the Overseers. Cheers!