Ch13 19
on
March 25, 2014
at
12:01 am
Hey all! I've been working on pages for the past 13 hours and my butt is numb from sitting in this chair, so let's dive in:

So, this is my progress on the current chapter! My buffer is currently scheduled all the way up to April 18th. All are done except the last three pages, and those last three are drawn, one of them inked! The other two should be inked by tomorrow after noon, and flatted not long after. As soon as they're done, I'm spending the rest of the week until I colour them on Saturday finishing up the digital pack for the kickstarter–if you backed past the fancy digital package and haven't read the update yet, I'm completely redoing the Ethma shimeji now that I know more about them then I did when I first made them. The plan is to get all of this stuff done by Sunday evening. And after that, well: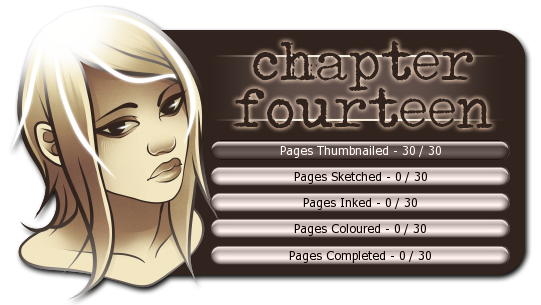 Oh hey, what's that? I did a new progress meter for Chapter 14? I've decided that the progress meters are really helping me stay motivated, and as a way to make them fun, I'm going to do a new art for them every single time I'm starting a new chapter to give a preview in advance of a character that the next chapter will feature heavily. So next chapter? More Raine, for those of you who want to know what's up with her new look.  Anyhow, I have the entire chapter thumbnailed, which is fantastic and puts me way ahead of schedule. I can't wait to start drawing them, and as soon as I get these last three pages of chapter 13 out of the way, I should be starting on a batch of five of them by Monday. If you would like to see the full sized pic of Raine, you can see it by clicking here!
Anyhow, I'm going to go pass out now. Enjoy the page!