Ch15 38
on
January 27, 2015
at
12:01 am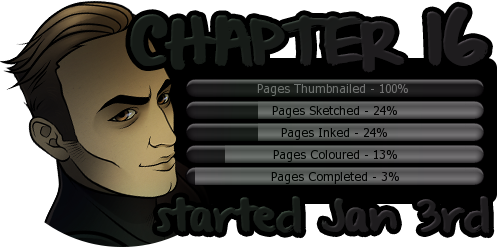 Hey all, Ran again! Things have been running a bit slow on my end–the weather is terrible and it's cold enough that my crazy neighbour has been setting honest-to-god cartoonish hobo-under-a-bridge barrel fires in the back of our shared laneway. People who babysit for me a couple days over the course of the week or for a few hours on the weekend so I can get work done are repeatedly fleeing to warmer climates to escape this frozen hellscape, so I'm still working, but not at the pace I want or need to be.
That said, the inked versions of the first six pages from the next chapter are up on patreon, and as soon as I get them coloured after I get some important freelance out of the way this week, I'll be charging head first into the wallpapers, with the one you voted for at the forefront and free for everyone, not just patrons (who will be getting two patron only ones anyways).
This is the last page of the chapter and the thrilling conclusion to Cory's terrible alt text adventure, and a new chapter will be starting Friday, along with a new alt text adventure. Enjoy!