on your mark 29
on
February 25, 2020
at
12:01 am
Hey all! Yesterday was busy and productive, so much so that I forgot to write any of this before I passed out. So, let's get to what I've been up to! First off, here's an updated version of my progress for this chapter: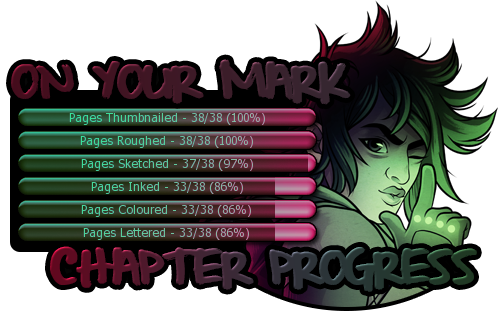 I've got half a page left to sketch, and then I'll begin inking the final batch either today or tomorrow–I cut a page from the final page count, and made a split second decision about how this chapter ends because it felt right and looked right visually, so we're going to have to do some re-writing. Cory hasn't seen the sketches yet, so I actually feel like I'm taking a bit of a risk here that, if we can't agree about it, may end in me having to re-sketch the last two pages. I'd really like to just jump right into inking, but before I can do that, I'll be taking my sketch pages and filling them with temporary rough script meant to sell him on the change I wanna make, which make take up several hours of my day OR like twenty minutes depending on how fast the words flow. We'll see how it goes!
Anyhow, I've been tracking my moods since January 1st using an app in an attempt to be able to predict when I'm approaching burnout, which in theory gives me time to step back and avoid it. I'm enforcing some strict rules about how I spend my time–things like 1) no work on weekends unless it's an emergency or I was sick during the week, or, the point of this ramble 2) my Fridays are reserved for working on art that isn't sequential and exists just to have fun. I'm mentioning this because I've been working on and off on this image since the beginning of January, and finished it last Friday! Ultimately I ended up cropping it to use for my own personal desktop wallpaper, and I'm gonna be real–I don't have the time or energy right now to make it into a pack of wallpapers in different resolutions. So if your desktop resolution is 1920×1080 or you're willing to crop it yourself, please feel free to do so. If I have time during the week, I'll try and make a pack, but no promises. Click the image to download the full, uncropped wallpaper from dropbox!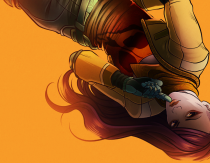 Lastly, I don't know how much any of you are into Pokemon, but our kid is finally old enough and good enough with math and reading that we're doing baby's first tabletop game. She's a total pokemaniac and I recently got her to pick out her favourite starter from all available generations (she picked Snivy, so she's definitely my kid lol) so I can design an intro session where she can meet and befriend it. What she doesn't know is that as part of an overarching plot, it's going to be a special fairy/grass Snivy, and I'll be making other special pokemon out of some of her favourites (on top of designing a homebrew system that'll be comfortable for a 7y/o with ADHD) as I go. So if you have twitter and want to follow me as I so that, here's a tweet from the thread where I'm documenting all the stuff I'm doing for this specific project:
I finished it, but posted it separately! I'm probably going to use this thread to document ongoing work on this system/her reaction/more pokemon art, so I'm just gonna add a link to the finished snivy tweet here: https://t.co/zv9Af4SfI0

— August Brown (@skullamity) February 25, 2020