As I am typing this, it is November 5th, my birthday! 28 is getting up there, but I don't really feel any older than I did at 25, or even 22. I hope I can continue to feel like that every year for many years to come.

Anyhow, we're doing a big thing: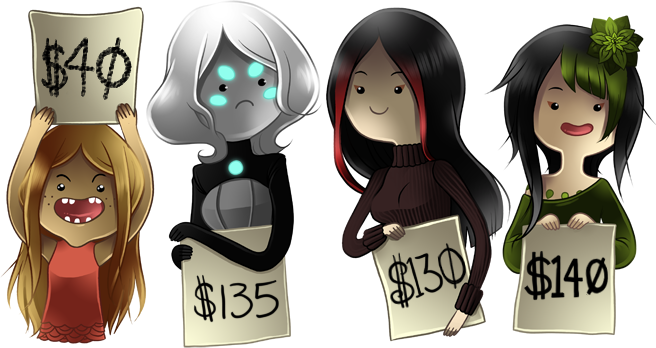 In my files, I have 5 scripts for side stories involving characters from The End. One of them will be used as a bonus comic for the first book, and will feature Henri.
The others feature Raine, Cassi, Noh and Ethma, and delve into various pieces of their pasts, which aren't necessarily pertinent to the story at hand, but make for some nice flavour. All of them are looking to be extremely fun to draw, to the point where I don't know which to do first. On top of that, since they aren't pertinent to the current story, they don't really fit into the archives. This is where YOU come in.
I want you to vote, with money. Here's how it works.
Make a donation, for any amount. You can even donate more than once of you like, and you might actually like to, because:
While you're donating, fill out the message box that asks you which character. it should be part of the paypal donation form. If you can't find it, don't worry! I'll email you and ask. Each dollar is a dollar that your favourite character has raised. Whoever has the highest total when the voting period is over will be the first extra story done, second will be second, etc. etc.. I'll update the totals image once a week whenever a new comic page goes up.
Eventually all of the bonus stories will be available in our store as a digital download pack, but that's only for people who don't donate to vote now. Everyone who donates to vote will be added to a mailing list, and will get them for free, before anyone else, as they are completed. On top of that, I'll be giving donators the password to a secret blog full of bonus content and insider info (like uncensored ESI files) to tide you over while the stories are being drawn.
You must be asking yourselves, "why are Ran and Cory so desperate for money?" right now. The answer is simple–every dollar earned will go toward building a safety net for printing our very first book. It's going to be one hell of a book; over 200 pages, full colour, 9 page bonus comic about Henri and a bunch of original sketches and illustrations not found elsewhere. It's going to be expensive to print, and when it does, we want to be able to use this money to:
assure kickstarter or indigogo backers that we're serious–we have money already put toward the book as a sign of trust that it will be done.
cover any unforeseen expenses like fees for shipping, or making up for money that we'd lose when kickstarter or indigog or paypal or amazon take their cut.
anything left over will go toward upgrading our hardware, which I had planned to do (until we had a baby and 90% of our savings went toward carseats and cribs and all of those other things we needed to get). I'd love to be able to use my tiny refurbished cintiq, but until I have a second graphics card and more ram for my pc, it sits in a box collecting dust.
When is the deadline for this? It'll end right before our campaign for book 1 starts. I don't have an exact date yet, but it'll be in the early new year. You will know well in advance of it ending, though, that I can promise.