A sparse page for sure, but probably the least jarring way to end that flashback. I don't want to fall into the whole 'well, it'll read fine in graphic novel format' trap, but, well, it'll read fine in graphic novel format. Anyhow, there are currently only 9 pages left in this chapter after today. At once a week (we're not even taking a break on Christmas!), chapter ten will be over on January 15th/ By that point in time, I'm hoping to have the bonus comic for Henri completely done, and a large chunk of chapter 11 done as well. If I have at least half of chapter 11 done at that point, I'll be strongly considering upping updates to twice a week again. It'll depend on a lot of things, though, like the fact that Briar is currently teething and the past week has been horrible because of that. I'll try and keep you all updated.
Anyhow, thank you to everyone who has donated to participate in the Character Drive! These are the current totals: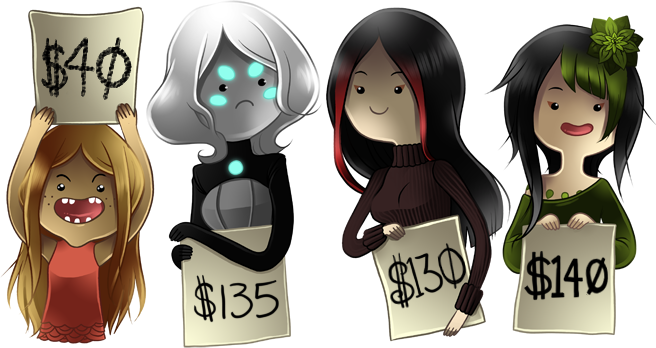 For those of you just tuning in, this is what's up:
We're doing a character drive. Donate any amount to us, and in the Note box on paypal's donation form, vote for either Raine, Noh, Cassi or Ethma. I'll add your donation to their total, and when the voting period is up, whichever character has raised the most money will have a decent sized (9-14 pages) bonus comic done about them. Those comics will be available to non-voters as a store purchase at a later date, but if you donate early, you get all of them for free, as soon as they are done, and access to a secret insiders blog where I'll be posting bonus stuff, peeks at the bonus comics, sketches, wallpapers and other fun things while you wait. The money will be going toward an emergency cash fund for when we do our first print run to cover any unforeseen costs that may crop up, and if none do, will go towards upgrading our hardware, extra fun stuff and stretch rewards for the book and web-hosting.
So far, Raine and Noh are neck-in-neck, Cassi is gaining on them, and Ethma is in last place. A great big thank you to those of you who have chipped in! You can chip in by clicking the big banner in the sidebar, or at the end of this post. Anyhow, I need some sleep, big time. See you again next week!