Ch13 27
on
April 22, 2014
at
12:22 am
Yo! I didn't leave any comments on the last couple pages–the beginning of last week was busy and then in the middle of last week, I totally slammed my hand in the dryer and almost took off the entire pad of my right middle finger tip! The (good?) news is that it hasn't really impeded drawing because I have nerve damage and can't feel anything from the topmost knuckle up , but it is making it hard to type and use a mouse. Anyhow, I'm absolutely loving the conversation going on in the comments, and even if I'm not responding, I am gleefully reading over the speculation while rubbing my hands together like a cartoonish villain. So, here's progress: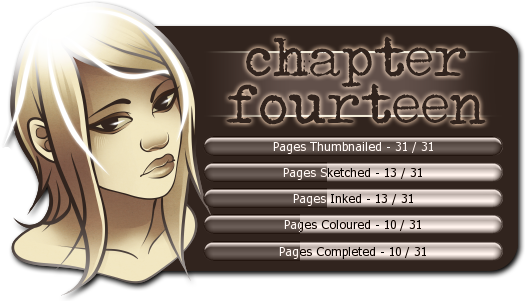 As of this evening, I have 10 pages of the next chapter completely done and three more ready to colour! I'll be queuing the new pages up tomorrow so Cory can add some fun alt text to them, and I'll be jumping right in to colouring them tomorrow afternoon.
Patreon is going strong! You can find it here. New to Patreon? It's basically a members only area. For as little as $1/month, you can have access to our activity feed, which will show pages and other art in progress, give you chapter covers as media packets complete with wallpapers, desktop icons and avatars, world building info and first looks at design work and more. The more you pledge, the more cool stuff you get, including special monthly wallpapers, media packs, art, voting on who that art and wallpapers will features and even one of a kind marker ATC art, mailed directly to your house!

Our current goal is to make at least $100/month, and we are half way there! I'll also be going through the reward tiers this week and beefing some of them up as well as shifting some things around (mostly just want lower tiers to be able to vote on stuff so I'm not relying on only a few people to completely decide which characters bonus wallpapers will feature). Here's what's new since the last time I mentioned Patreon here:

I might have a few more things to post up for you this week that aren't just page related, but we'll see how that goes as it goes. I'm still playing catch up, and while I'm making good time I don't want to rush anything.