The End is pretty long already, and will only get longer. To help you navigate through the archives more easily, click the links below to bring you to each chapter:
PART ONE
contains the first ten chapters. The chapters, as well as
Henri's Side Story
make up the first printed volume, which is currently in production.
CH1
CHAPTER ONE sees hundreds of drop ships leaving a mother-ship hiding in the shadow of our moon. Navigator Endi and Monitor Ethma land on Earth to carry out a noble and prestigious mission. All too quickly, they discover a hitch in their plan...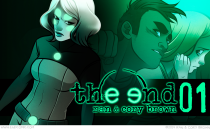 CH2
CHAPTER TWO introduces Bart, Heather and Cassi Savage as they wait in the Friday evening line for Canada's largest Fan (Anime/Manga, Sci-Fi, Movies, Comic Books, Videogames) Convention, OMEGAcon. An unfortunate turn of events leads them somewhere unexpected.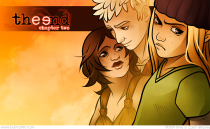 CH3
CHAPTER THREE introduces Kait and Jack Jones as they wait in a hotel lobby where jack is supposed to be meeting up with his internet girlfriend, Raine Andrews for the first time in person. Raine shows up, but harbors a secret that sends Jack to a place he could never have even dreamed of.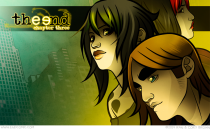 CH4
CHAPTER FOUR sees a chance meeting between 29-year-old government worker by day, cosplayer by night Blaire Warner and typecast, out-of-work, convention-hopping actor Victor Smart. An innocent suggestion leads them somewhere unimaginable.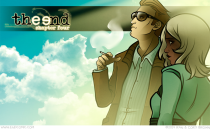 CH5
CHAPTER FIVE takes us on a wild chase that jump-starts a chain of events that leads to the stars. The humans meet the aliens for the first time, and the results are…interesting to say the least…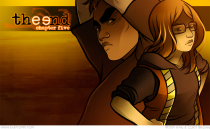 CH6
CHAPTER SIX gives us a look at the inside of the ship, as well as an idea of how the humans are coping now that they're light-years away from Earth. A month has passed since they left Earth.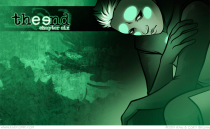 CH7
CHAPTER SEVEN sees Henri and Trish exploring the space-station, Ethma meeting an old friend, and a mysterious human-like race that may or may not be evil.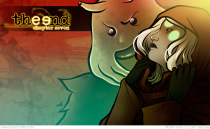 CH8
CHAPTER EIGHT leads Cassie and Jack on a questionably wild goose chase around the ship, with surprising consequences for both of them.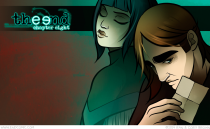 CH9
CHAPTER NINE is a series of bad decisions that end in a showdown with the Ith!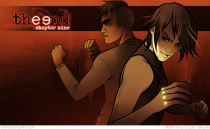 CH10
CHAPTER TEN gives Victor and Bart some time to get to know each other while Cassi Learns about Axca. Ethma makes an important decision that may or may not work out well.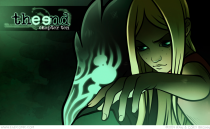 PART TWO currently contains chapters eleven to sixteen and makes up the contents of the second volume.
CH11
CHAPTER ELEVEN takes us back to Earth, months into the aftermath of the destruction of the Fiah Exodus...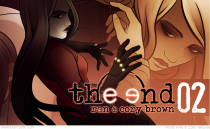 CH12
CHAPTER TWELVE takes us to Ith to discover the fates of many familiar faces...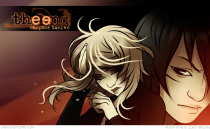 CH13
CHAPTER THIRTEEN visits how the humans are adapting to life on Axca. Trish makes a discovery that leads to a confrontation with Ethma!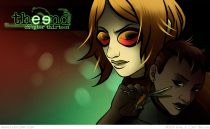 CH14
CHAPTER FOURTEEN checks in on Henri, Jack, Kait and Noh as they fail to get comfortable in their new habitat.
CH15
CHAPTER FIFTEEN delves into Noh, Lon, Raine and Xia's pasts while providing hope for the future for Kait...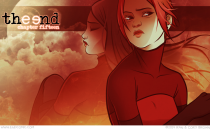 CH16
CHAPTER SIXTEEN follows Bart and Victor as they go on an ill-advised but necessary scavenger hunt in attempt to locate their missing friends. A chance encounter uncovers a discovery that just might be the best secret weapon ever...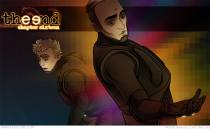 PART THREE contains chapters seventeen to twenty and makes up tghe contents of the third volume.
CH17
CHAPTER SEVENTEEN follows Sam and Max as they use a combination of their very different detective skills and dumb luck to finally catch a break in their quest to locate the abductees.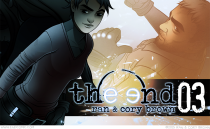 CH18
CHAPTER EIGHTEEN begins with a wild accusation, a forced revelation and the sense that something shady is going on. Noh, Kait, Jack and Henri navigate their confines and search for unlikely allies in a bid to survive the experience...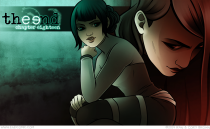 CH19
CHAPTER NINETEEN Tempers flare as a an escape plan rapidly comes together and then falls apart. The symposium is upon our intrepid captives, and only some of them will make it out...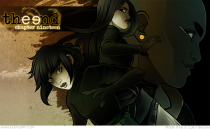 CH20
CHAPTER TWENTY An unexpected interruption leads to an unwanted deviation in the escape plan, leaving both halves of the crew scrambling to safety. When the dust clears, who will still be standing? Who gets left behind? Decisions are made that will change everyone's lives forever...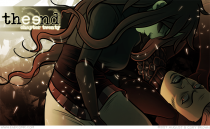 PART FOUR begins with a bonus chapter, and then contains chapters twenty-one and onwards. Part four is currently still in progress.
on your mark
A BONUS CHAPTER that picks up where Chapter 17 left off, following Sam and Max as they take a slight detour while they prepare to leave Gorth Station...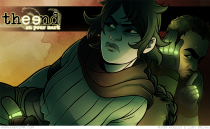 CH21
CHAPTER TWENTY-ONE A hike through sweltering tropical swamplands leaves the team who decided to stay behind to a much needed refuge. This short chapter follows them as they get settled in.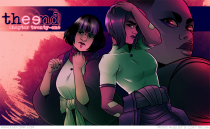 CH22
CHAPTER TWENTY-TWO is still in progress!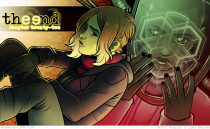 BONUS CONTENT is comprised of all of the fun extra suff that currently lived in our archives. It doesn't follow the timeline of the main storyline, but is too fun or important to exclude from the archives.
Sidestory: Henri
HENRI'S SIDESTORY is 'titled (don't) forget yourself' and is a complete side story that takes place outside of the continuity of the main story.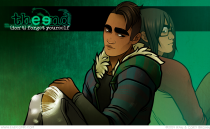 Home For The Holidays
A series of one-shot comics posted twice a week from November 29th, 2013 to December 31st, 2013. These comics are a fun bonus that give insight to the human crew's home life before abduction during their last Christmas season.